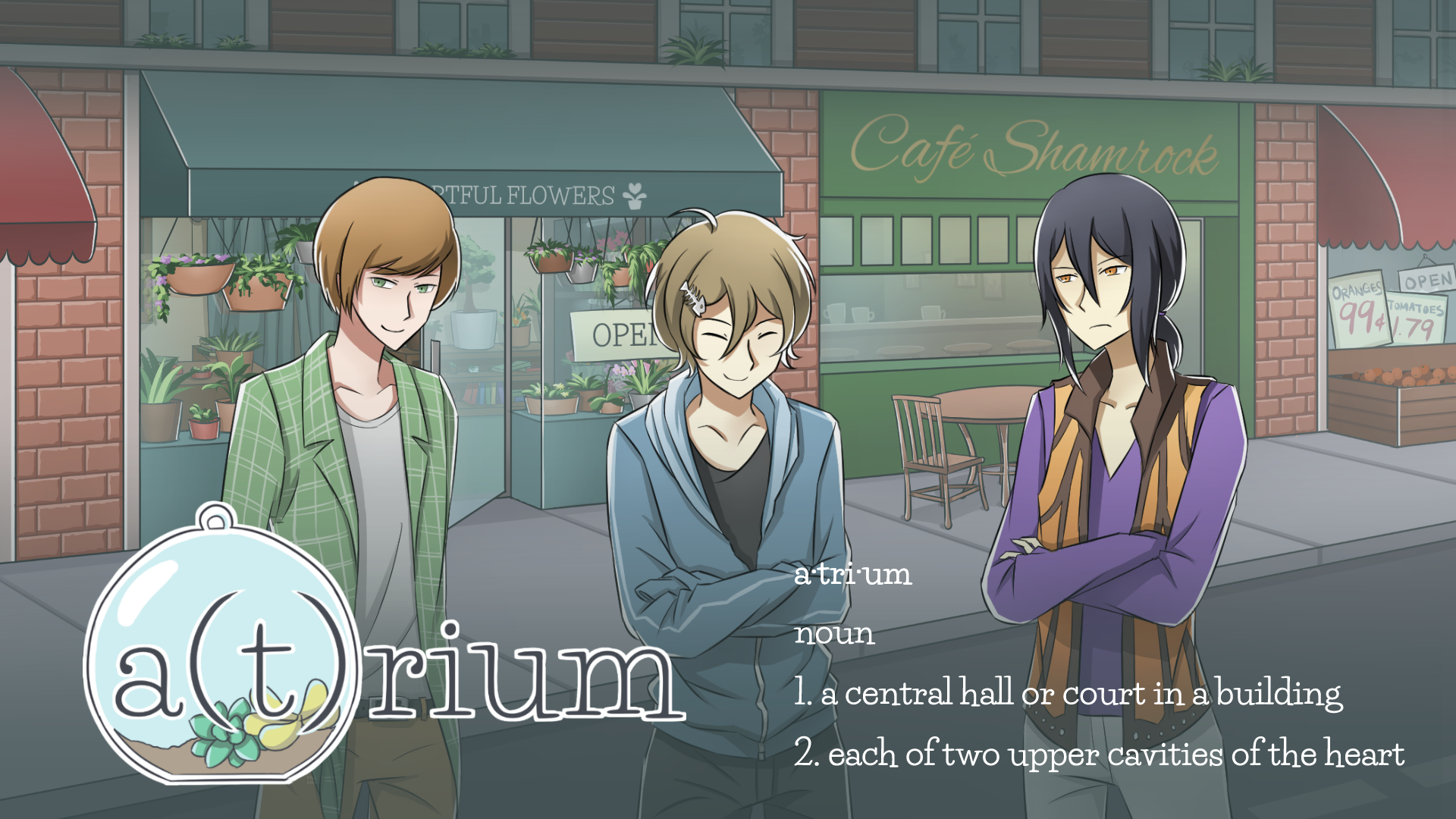 a(t)rium
A downloadable visual novel for Windows and macOS
a·tri·um
noun
1. a central hall or court in a building
2. each of two upper cavities of the heart
---
College student Amaranth ("Amie") was fired from her job at the library after making a major mistake, and she has been rejected from all the jobs she applied for ever since. When Amie is spontaneously offered a part-time job at Heartful Flowers, a small flower shop near her college, she accepts without much hesitation. Little does Amie know that the small shop's atrium conceals a big secret…

---
a(t)rium is a project by CosmicAlbacore Games (formerly known as Studio Dipper). The game is Pay-What-You-Want, and it can be downloaded for free.
The current version was created over the course of a month (and a few extra days) for the NaNoRenO 2017 game jam. An updated demo version will probably happen... eventually.
watch for updates at:
Thank you for your support. If you enjoyed this demo, please consider leaving a comment on any of the sites mentioned above and/or buying me a coffee.
---
FEATURES
a protagonist who frequently jumps to conclusions
4.7k words (15-30 minutes of playtime)
no choices, sorry!
4 sprites with 150+ expressions between them
3 backgrounds
2 original music tracks
phone feature with a notification system
---
CREDITS
PRODUCED by Studio Dipper
WRITTEN by Alcor
CHARACTER ART by Alcor
BACKGROUNDS by Alcor
MUSIC WRITTEN by Alcor and ARRANGED by Caelem
GUI DESIGN by Alcor
PROGRAMMED by Alcor, with HELP from Windchimes
MADE USING the Ren'Py Engine
---
VERSION 1.1.1
Minor script changes
Minor changes to one of the backgrounds
Bug fixes for the notification system
Download
Click download now to get access to the following files:
a(t)rium (short demo): MAC VERSION
49 MB
a(t)rium (short demo): PC VERSION
64 MB